Welding Components

Standard Resistance Welder Company can supply a wide variety of resistance welding controls, from a simple 1A timer thru solid state combination controls. It is important to have the correct fit between the controls and the application.
AC, DC

Single phase

Three phase

Half wave frequency converters,

Mid-frequency welding controls.
Intertron Controls (PDFs)
For more information about controls, or to place an order please call our Sales Department at 1-800-365-9943.
Standard Resistance Welder Company can supply all types of welding transformers in sizes ranging from 5 to 750 KVA single phase, and from 50 to 1000 KVA three phase. We also offer transformer rewinding services.
Fixture Type Transformer for multi-spot welding fixtures

Machine Type Transformers for press, seam, or rocker arm welding machines.
Converter Power Supply for robotic applications

Single Phase or Three Phase DC Power Supplies for resistance welding and heating

Tap Switches to regulate output voltages for resistance welding transformers

Grounding Reactors for protection of electrical shock, available in several sizes and voltage ranges

Impedance Meters for balancing secondary weld currents in multi-spot welding machines.

Transgun/Robot Type Transformers for robots or multi-spot fixtures. 20 to 100 KVA ratings

Portable Gun Type Transformers for use with portable welding guns, or remote robot guns.
LVDT Basics -- What is an LVDT? How does an LVDT work? (pdf)
Specifications and Dimensions (pdf)

Force Gauge Specifications and Dimensions (pdf)
Weld Checkers


Handheld Weld Checkers

Weld Monitors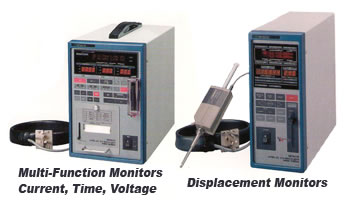 High Precision "Miniature" Weld Monitors

Click here to contact us for more info